Corporate profile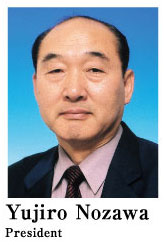 Management Philosophy
Contributing to society with creativity and taking on challenges to create a rich food culture
We at Obaneya believe that a brand cannot be established without a relationship of trust with its customers.
We believe that such a relationship cannot be developed in a day.
It takes years of operations in constant pursuit of better quality.
The Obaneya brand is the proof of trust from our customers.
Corporate Profile
Name : Obaneya Co., Ltd.
President : Yujiro Nozawa
Established : February 1987
Capital : ¥10,000,000
Business
Manufacturing of vegetable pickles, processing and selling of Japanese pickles, manufacturing of prepared food, import, export, and distribution of farm and marine products and other foods
■ Head Office and Hitotonoya Factory
1747-1 Hitotonoya, Oyama City, Tochigi, Japan
Phone:+81-285-28-6878/ +81-285-28-6879, Fax: +81-285-28-6908
https://www.obaneya.co.jp/
■ Omoigawa Factory
1062 Daigyoji, Oyama City, Tochigi, Japan
Phone: +81-285-30-5011, Fax: +81-285-30-5022
■ Shunsai Kobo Outlet at Roadside Station Omoigawa
25-1 Shimokozuka, Oyama City, Tochigi, Japan
Phone & Fax: +81-285-38-0837
■ Sales agent in Singapore: TAYSUN GEN TRADING PTE LTD  定三源貿易株式会社
55 Market Street #10-00 Singapore 048941
Tel & Fax: +65-67337080
E-mail : chtaysun @ singnet.com.sg
■ Sales agent in Taiwan: Tsung Chin International Co., Ltd.
No. 32-17, Madoukou, Madou District, Tainan City, Taiwan (R.O.C)
Phone: +886-6-5701299, Fax: +886-6-5700116
■ Sales agent in South Korea : Kyung Sung General Food Co., Ltd.
♯417-4, Mulkum-Ri, mulkum-Up,
Yangsan, Kyungsangnam-Do, Korea
Phone: +82-55-384-4487, Fax: +82-55-384-4486
History of Obaneya
Feb.
1987 :
Begins selling Japanese pickles in Oyama City, Tochigi.
Nov.
1995 :
Capital is increased to 10,000,000 yen.
Apr.
1999 :
Business category is changed to manufacturing of Japanese pickles.
Feb.
2000 :
Management plan is approved by Tochigi Prefecture.
Mar.
2001 :
A pickle factory is completed in Hitotonoya, Oyama City, Tochigi.
Mar.
2002 :
Participates in FOODEX JAPAN (FOODEX JAPAN 2002) for the first time.
Dec.
2004 :
Obtains trademark registration for Obaneya no Oedo Gobo (burdock pickles).
May.
2005 :
The second phase of factory expansion is completed.
Jun.
2005 :
Omoigawa kobo (burdock pickles) is certified as an "Oyama-Brand" product by Oyama City.
Dec.
2005 :
Omoigawa Gobo is certified as a souvenir recommended by Tochigi Prefecture. Licensed as a prepared food manufacturer.
Apr.
2006 :
Opens Shunsai Kobo outlet at the Roadside Station Omoigawa.
Jun.
2006 :
Participates in FOOD TAIPEI (Taipei International Food Show).
Jul.
2006 :
Obtains JAS certification. (Obaneya factory is certified under the Japanese Agricultural Standard.)
Oct.
2007 :
Operations are started at the "Omoigawa Factory" in Daigyoji, Oyama City.
Dec.
2007 :
Participates in the 4th Shanghai International Food Expo.
Jan.
2008 :
Participates in Tochigi Bussan Fair in Hong Kong, an exhibition of Tochigi Prefecture's local specialty foods held in Hong Kong.
Jun.
2008 :
Certified as a company engaging in promising business by the Japan External Trade Organization (JETRO).
Nov.
2009 :
Participates in FHC CHINA2009 (Shanghai New International Expo Center) supported by the Ministry of Agriculture, Forestry and Fisheries of Japan.Exhibits products at the Japan Pavilion (set up and run by JETRO) in the FOOD WEEK 2009 held in Seoul, South Korea.
Jan.
2010 :
Participates in Tochigi-ken Shodankai in Hong Kong 2010, an exhibition of local products from Tochigi Prefecture and business negotiations over the products.
Mar.
2010 :
Participates in FOODEX JAPAN 2010 (for the ninth consecutive time).
Apr.
2010 :
Shoyu Gobo (soy-sauce-flavored burdock pickles) and Shiba Tamanegi-zuke (onion pickles) start to be served to First Class and Business Class passengers of All Nippon Airways (ANA).
Mar.
2011 :
Participates in FOODEX JAPAN 2011 (for the tenth consecutive time).
Jan.
2012 :
Obtains Tochigi HACCP certification.
Mar.
2012 :
Participates in FOODEX JAPAN 2012 (for the Eleventh consecutive time).
Jun.
2013 :
Participates in FOOD TAIPEI 2013.
Mar.
2013 :
Participates in FOODEX JAPAN 2013 (for the Twelfth consecutive time).
Jan.
2014 :
Participates in Winter Fancy Food Show 2014.
Mar.
2014 :
Participates in FOODEX JAPAN 2014 (for the Thirteenth consecutive time).
Apr.
2014 :
Participates in FOOD&HOTEL ASIA 2014.
Dec.
2014 :
U.S FDA「U.S Food and Drug Administration」
Completion of factory certification registration
Jul.
2015 :
U.S FDA「U.S Food and Drug Administration」
Completed certification of low-acid food factory registration
Jan.
2015 :
Participates in Winter Fancy Food Show Food Exhibition SanFrancisco (U.S.A)
May.
2019 :
Omoigawa factory completed (New construction and Renovation work)
Banks of Account
Ashikaga Bank (Oyama Higashi Branch)
Joyo Bank (Oyama Branch)
Tochigi Bank (Oyama Higashi Branch)
Ashikaga Oyama Shinkin Bank (Oyama Business Department)